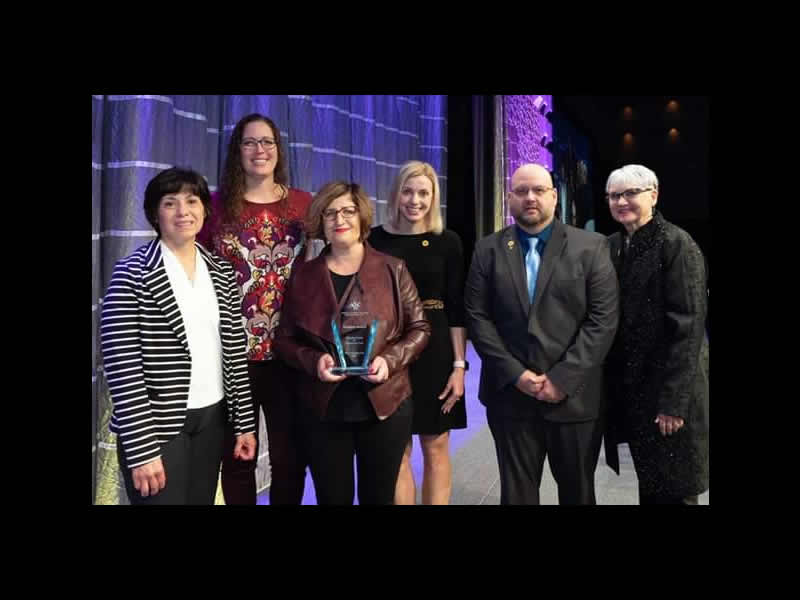 NSRC wins 2019 Summit Award
I am so excited to share this happy news from a longtime client: The Nebraska Society for Respiratory Care has won the 2019 Summit Award from the American Association for Respiratory Care (AARC).
Receiving the 2019 Summit Award in the photo above were, from left: President Lil O'Neill; Outstate Director Kristin Narjes, Past President Lisa Fuchs, NSRC Delegate Shannon Hoffman, Lanny Inabnit from the AARC chartered affiliate committee, and AARC President Karen Schell.
"Each year, the AARC's House of Delegates recognizes one affiliate for their efforts, achievements and contributions toward the promotion of the respiratory care field and in furthering the level the professionalism for respiratory care and the respiratory therapist," according to their press release.
"The House of Delegates is comprised of elected representatives from 50 affiliate societies. Representatives review the activities conducted by the societies over a 12-month period, analyzing their efforts in seven categories: Education, Membership, Advocacy, Public Awareness, Member Benefits, Collaboration and Student Activities. The Nebraska Society received high marks in all seven categories."
I have managed the NSRC website for nine years. We've been through a complete redesign and a couple of updates as well. It's also been my job to write copy and edit photos and graphics for their blog, which is their main source of member news.
And every year, I post reminders asking people to submit their information for the Summit Award. Finally, it paid off!
I am so happy to see this group of dynamic, caring professions get national recognition for their hard work. And Catena Creations is proud to support their efforts. Congratulations, NSRC!
Read more about the award here: https://nsrc-online.org/nsrc-wins-2019-summit-award/