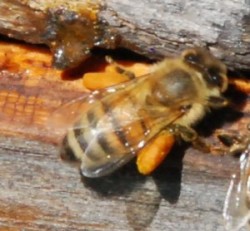 Three of my photographs have been selected to illustrate the first edition of The Practical Beekeeper: Beekeeping Naturally. The book is available in hardcover and paperback, and is now on sale at Amazon.com and Barnes and Noble.
The beekeeper is Michael Bush, who has gained an international reputation as an organic beekeeper. The book is simply a printed compilation of the information he's posted over the years on the Bush Bees beekeeping Web site.
On July 1, I had the privilege of donning a bee suit and joining Michael at his farm south of Greenwood to photograph the bees. It wasn't that hot — yet.