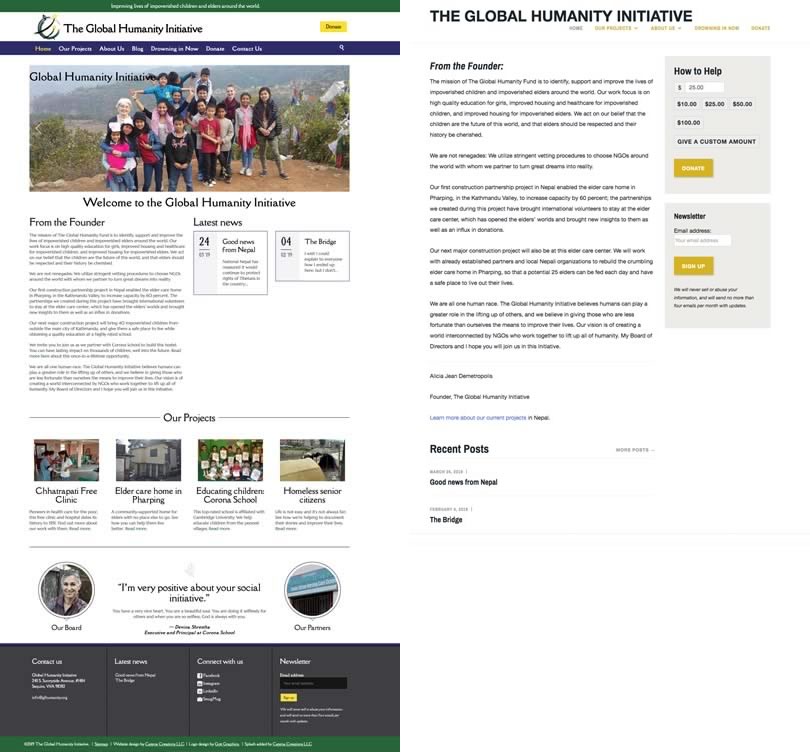 GHI: Elevating a site for Nepal
One of the things I enjoy most about my job is helping clients whose businesses have grown, and their first websites need to be upgraded to meet their new needs. I got to do this again when I helped Global Humanity Initiative (GHI) update their website this spring.
GHI is a nonprofit that raises funds to care for children and senior citizens in Nepal. Its founder, Alicia Demetropolis, started it in 2017 after a three-month trip to Nepal inspired her to establish a long-term program to keep assisting the people she'd been helping.
Alicia had set up her original website on WordPress.com with a very simple template. The organization has formed partnerships with other like-minded nonprofits around the world, and was getting ready to start a fund-raising campaign for a new project. They needed to elevate the quality of their website so it would better highlight their mission and reflect their growth.
I was referred to Alicia by my longtime friend and client, Catherine Demes Maydew of CDM CPA Consulting. Catherine is Alicia's sister, and is co-founder and treasurer of the group. I really enjoyed getting to know my friend's sister, learning how much they look and sound alike, finding out their differences, and getting more insight on where their passions come from.
The new template we chose, Church Event by Vamtam, incorporated several functions that this growing nonprofit needs now and in the future:
A Donate button featured prominently at the top.
Ability to schedule events and RSVP.
An online donation and payment system.
Several options for photo galleries.
I had worked with Vamtam templates for previous clients, and their support and customer service continue to be excellent.
Alicia had a black-and-white logo for her organization. We incorporated the logo into the new site and colorized it, then selected two Google fonts: one for headers that closely resembled the logo font, and a second text font that complemented the header font. From this, we created a color template and branding guidelines for the website, which will also be implemented in future marketing materials.
Alicia created the organization's social media presence, setting up accounts on Facebook, Instagram and LinkedIn. She also uploaded photos from her trips to Nepal to SmugMug. We now use the Photonic Gallery & Lightbox plugin to create photo galleries for each of her projects. This plugin lets SmugMug users create galleries on their websites without having to resize and upload photos to WordPress — the photos are pulled directly from SmugMug, then automaticallly resized according to settings in the plugin. If Alicia wants to update a photo show, she only needs to upload new photos to her SmugMug galleries. The plugin takes care of the rest.
Unlike most websites that I redesign, I didn't have to do any copywriting for this one — just a touch of editing. In addition to founding her nonprofit and working as a CNA/Med Tech at an assisted nursing facility, Alicia also is an accomplished author whose photographs, articles and short fiction have appeared in various publications through the years. Her passion for her friends in Nepal, her genuine concern for the underserved people there, and her generous heart shine through everything she's written for her website.
Global Humanity Initiative has just kicked off a fund-raising drive to build a hostel at Corona School. This hostel will allow up to 40 children from outside the city to come to Kathmandu and have a safe place to live while obtaining a high-quality education. Take a look at their website to see the other exciting projects they're working on.
Catena Creations will continue to assist GHI with website updates and other marketing projects as the organization grows. I am honored to be part of this initiative, and look forward to working with these sisters as they help children and seniors in Nepal have better, more productive lives.