Farewell to an employer and friend
This week I said goodbye to a friend who was also an employer. Charles E. Peterson Jr. died May 24 at the age of 92. His funeral was June 4.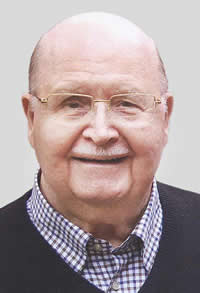 I met Chuck in 1993 when I started working for TransEquity, which offered corporate relocation management services. It was a partner company of Byron Reed Company.
I worked for Eileen Segan, the vice president of marketing, and was a backup to Chuck's secretary as well.
TransEquity is where I learned to do proposal writing. Chuck and Eileen taught me how to review a proposal, how to collect and edit the responses, how to format it and put it all together to meet the guidelines, and how to get it shipped on time.
TransEquity also is where my web design career started. I had left the company in July 1995 and had stayed in touch with Eileen. One day in spring 1997 she called and said, "Come back and run our website." They were in the process of designing their site but needed someone to finish it and manage it. I returned in June, and that's when I became a web designer.
Chuck's first wife, Marjorie, died of cancer, and Eileen later got divorced. Chuck and Eileen became a couple after that, and were married for many years. They have always been supportive of me and my son, encouraging me in my business and cheering me on as I went.
Chuck's only son, Charles E. Peterson III, was murdered in Austin, TX in August 2017 the night that Hurricane Harvey landed. I had the privilege of writing Charlie's obituary and helping the family with media inquiries during that time.
I also had the privilege of helping the family with Chuck's obituary, which Eileen and I began working on a few months after Charlie's death. I learned a few new things about Chuck — like his joy of flying acrobatic planes! — as we gathered the information from a well-lived life and successful career. In addition to running these companies, Chuck was one of eight original investors in Berkshire Hathaway. He was Warren Buffet's roommate at Wharton School of Finance, and remained friends with him throughout his life.
Chuck's smile and energy always lit up a room when he walked in. When I learned of his death, the first thing I thought was: "Oh, that smile is gone!"
Chuck's smile, energy, success and zest for life will live on in his family, friends, former employees and colleagues. I hope they live on in my work and my business.