This week I said goodbye to a friend who was also an employer. Charles E. Peterson Jr. died May 24 at the age of 92. His funeral was June 4.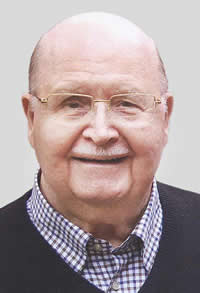 I met Chuck in 1993 when I started working for TransEquity, which offered corporate relocation management services. It was a partner company of Byron Reed Company.
I worked for Eileen Segan, the vice president of marketing, and was a backup to Chuck's secretary as well.
TransEquity is where I learned to do proposal writing. Chuck and Eileen taught me how to review a proposal, how to collect and edit the responses, how to format it and put it all together to meet the guidelines, and how to get it shipped on time.
TransEquity also is where my web design career started. I had left the company in July 1995 and had stayed in touch with Eileen. One day in spring 1997 she called and said, "Come back and run our website." They were in the process of designing their site but needed someone to finish it and manage it. I returned in June, and that's when I became a web designer.