A better way to build a small Web site
Not every business needs a full-sized website, especially when it's just getting started. One of the many reasons Catena Creations uses the WordPress content management system to set up a Web site is that it provides an ideal solution for starting small and scaling up as a business grows.
That solution involves setting up a blog/website on WordPress.com, the blogging site. This offers a number of advantages:
The site is free and offers 3GB of storage space per blog.
It hosts blogs both small and large, such as CNN's Political Ticker and People Magazine's StyleWatch.
Authors can select from more than 100 free templates to use. Premium templates with additional features can also be purchased.
Most templates offer sidebar widgets for including social media feeds such as Facebook, Twitter or Flickr.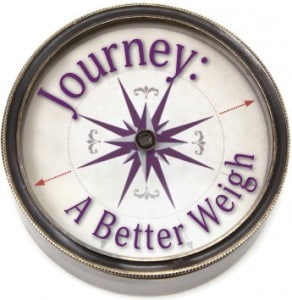 Names can be set up with a wordpress.com extension for free, or you can purchase your own URL to use.
For a small additional fee, blogs can be customized by adding CSS coding, and adding fonts from Typekit.
Most recently, this format was used to set up the Web site for Journey: A Better Weigh. This new weight loss organization provides support, education and encouragement for those who want to lose weight and live a healthier lifestyle.
Founder Pam Andersen started the group in February 2012, after working for 33 years for an internationally known weight loss organization. Her meetings are held at King of Kings Church in Omaha.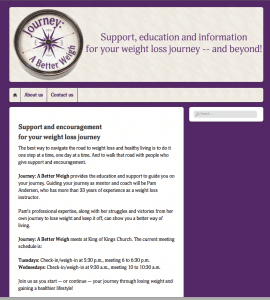 Because Pam was just starting out, Catena Creations wanted to create a professional image for her and work within her budget. We designed a logo using a stock image and customized it by adding the type in a font from Typekit.
When the website was set up on WordPress.com, the font and colors were implemented in the Web site by writing additional CSS code. Pam also purchased a URL for her site, which gives basic information about Journey meetings and Pam's weight loss philosophy.
Pam wants add a blog to her site to enhance the lessons she gives as each group meeting. She also plans to post more materials to the site as membership grows. All of this can be done easily through the WordPress system, and Catena Creations has trained Pam to manage and update the site herself.
In addition to building the Web site, Catena Creations also designed business cards, referral cards, a flyer and posters for Journey: A Better Weigh.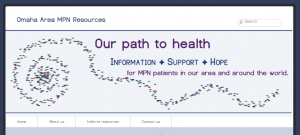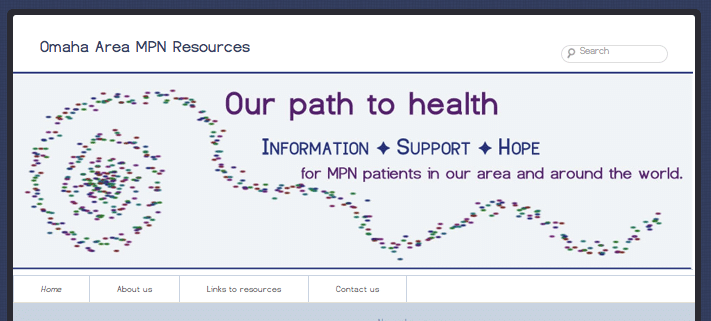 Catena Creations first used this setup for Omaha Area MPN Resources. This support group was started by MPN patients Elaine and Meg, who have rare blood cancers that are difficult to treat. They wanted to start a forum to share the lessons they've learned while seeking the medical help they need to manage their conditions.
The home page for this site is a blog page.  It also includes pages with links to resources for MPN patients and caregivers, bios for the women, and contact information. Catena Creations added CSS coding to customize the colors and design of the chosen template, and added a Typekit font to make it stand out. We also designed the group's spiral logo and graphic for the header.
Since they held their first meeting, both women have been dealing with their medical issues, and they haven't been able to devote as much time and energy as they'd like to their new support group. They hope to move forward soon with additional meetings and information.
SaveSave