Executive Solutions Web site is online
Every Web site project has its quirks. But Catena Creations faced a series of unique challenges while assisting FFG Executive Solutions with the implementation of their new Web site.
Executive Solutions provides business succession planning, retirement planning, and business risk management consulting services. It was founded by Rob Wellendorf II.
The company already had a contract with Emerald Connect, a Web hosting firm which specializes in Web sites for the financial services industry. It features a complete system for building a Web site, including pre-formatted templates.
Executive Solutions sought Catena Creations' help in going through all the steps and getting the pieces into place for their site. (Our thanks to Bridget Lynch at the Greater Omaha Chamber of Commerce for this referral.)
Rob wanted a site that is attractive, easy to use and navigate, and told the company's story clearly and concisely. The goal of the site is to get potential customers and their attorneys, brokers, insurances agents and estate planners to call the company and request a meeting to discuss their services.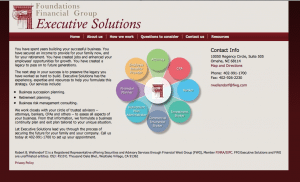 A unique criteria for working on the site was that every word of text had to be approved by the company's broker manager. All of the text supplied by Emerald Connect was already approved, giving Executive Solutions access to a large library of articles and tools that a small company normally wouldn't have.
Executive Solutions had created a brochure with text and graphics that had gone through the approval process. Catena Creations conducted keyword research to get the most-searched terms on Google for this industry incorporated into that text. The text and graphics were updated for use on the Web site.
Catena Creations customized the template by writing additional CSS code for the site. This code changed the colors of the elements so they matched the colors in the Executive Solutions logo It also created a menu system that can be adapted to a drop-down menu as the site expands.
We also added Google Analytics to the site so its usage could be tracked in detail. We created a customized Google Plus page so it would appear in search results.
When the site went live, owner Rob Wellendorf said: "It appears that everything has gone well with this engagement. (There was) one real curve ball that apparently you were able to hit. Thanks for your work!"
Future plans for updates include taking new photos for the site, adding a section for business owners and their advisors, and adding testimonials from clients.
SaveSave