After a year of twists and turns, surprises and celebrations, it's a pleasure – and a bit of a relief – to celebrate today the 12th anniversary of starting Catena Creations.
At last year's anniversary, I was preparing for my son's wedding on Oct. 5. We were fortunate to have a beautiful day in a perfect fall setting at The Vue in Bellevue. It seemed like the next week, the Universe decided that now that the wedding was over, it was time to open the gates. I was flooded with requests for website updates and other work.
As I was juggling priorities and making lists, I had to have surgery the first week in December for a minor fibroid tumor. I had two days off: One for surgery, and one for recovery. I then worked 22 days straight, and three more days after taking Christmas Day off, to complete one website before the end of the year. The other sites were completed in February and March.
Although managing three major website updates at once was definitely a challenge, it also was a joy to help these long-term clients add new technologies and features to their sites:
Prime Auto Omaha now uses VIN Decoder to import data about the vehicles they sell, saving them hours of data entry time. This plugin was built into the Motors theme we chose for the site.
Walnut Creek Pediatric Dentistry added their Patient Information forms and a payment form via Jotform to their sites. Both forms are HIPAA-compliant to protect patients' privacy. I also got to photograph their beautiful new office building for the site.
Our Heritage Guest Ranch changed its URL. It also added its Airbnb calendars to its site. The calendars automatically update whenever someone books a space, so visitors can check the site or Airbnb for availability.
And then, just as everyone was gearing up for spring, the COVID-19 shutdowns hit Omaha. Clients had to cancel conferences and seminars. Networking groups stopped meeting or gathered on Zoom. Schools finished classes online, and thousands of office workers learned all about working from home.
"You've got this down!" people told me. "You've been doing this for so long, and your office is already set up." Very true. I had my computers, printer, office, desk, high-speed internet and work routine down by that time. I'd had 11 years of practice.
After a few weeks of sheltering at home, this was my discovery: All of the efforts I made to get out of my home office – client meetings, networking, going to the gym, meeting friends – were what had kept me sane while working at home. Taking that away and hunkering down in my apartment, going out only for groceries and necessities, made me realize how important those connections were to my business and my sanity.
Staying at home more meant more time on my hands, so I made and gave away masks to family, friends and area neighbors. I started in April when the Centers for Disease Control and Prevention first announced that people should wear them. I made masks for my family for Easter, since we couldn't meet for the holiday. Then I offered them for free on the NextDoor app. I made about 65 masks in all, and got to meet some wonderful, generous, helpful people along the way.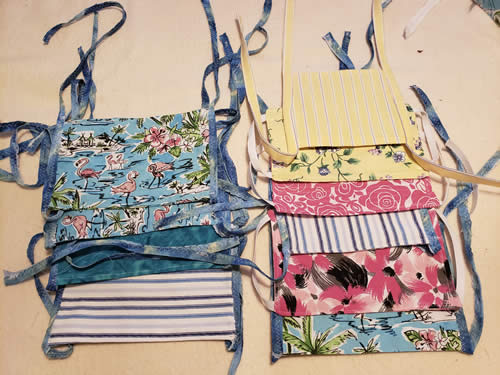 Having my home and office at Regency Lakeside Apartments means I have a beautiful setting to walk my beagle, Juno (see photo above). There were lots of baby geese and ducks around the lake to enjoy this spring . I didn't have to worry about any spring maintenance except planting my flower bed and repotting my plans.
Since I'm a former food writer and still a lover of cooking, I joined the millions in Pandemic Baking. I tried the Doubletree Hilton recipe for Chocolate Chip Cookies. A new favorite is the Best Chocolate Cake Ever from Jamie Schler at Life's a Feast. Oh, YUM!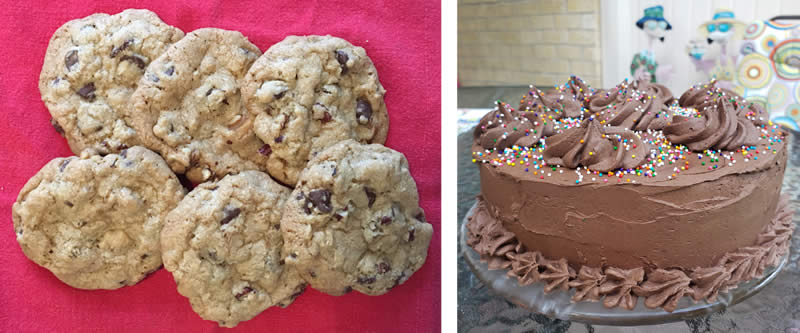 I had another health challenge in June: recovering from a case of acute diverticulitis. That diagnosis was a BIG surprise. But after spending two days at CHI Lakeside Hospital, I was able to complete my recovery at home and keep working during that time. I felt very fortunate that the Emergency Room was not overwhelmed with COVID-19 patients, and that the staff there took such good care of me.
Now that I've settled my post-diverticulitis diet, have a new wardrobe of masks, and am mostly back to "business as usual," I'm looking forward to another year of serving my clients and finding new ones. I don't think things will "go back to normal," like they were before the pandemic. I think we need to reset into a "new normal," much like we did after 9/11.
Now more than ever, having a great online presence for your business is so important. Great website design and management, search engine optimization, keyword-rich content, customized photography and video, and an active presence on social media will help customers find your business and keep them engaged whether or not your store or office are open.
And Catena Creations continues to be open to serve you to keep you, your employees and your business safe and prosperous.
My thanks to everyone who helped me reach this anniversary. I appreciate your continued support.